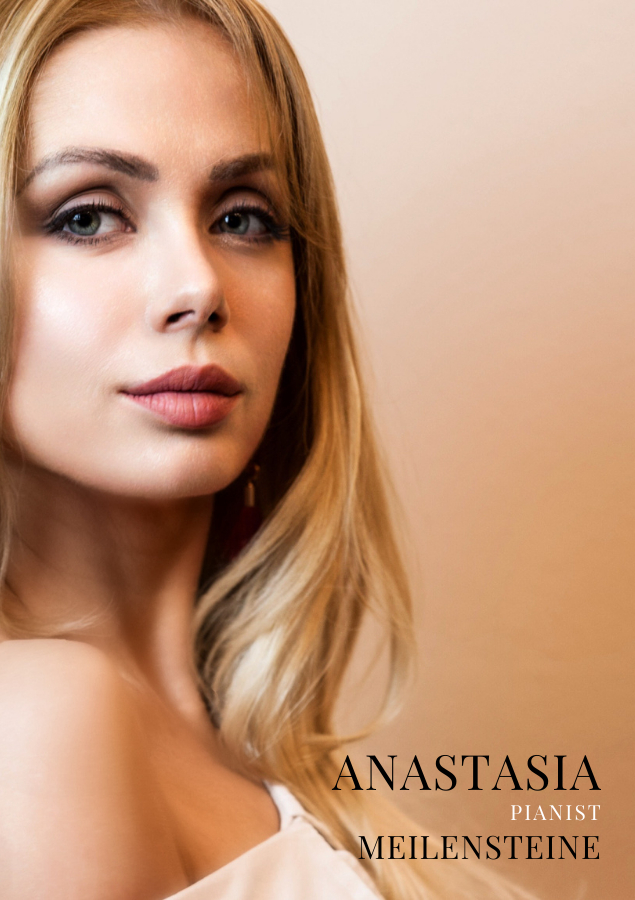 ANASTASIA - PIANIST
Filigree, spirited, extraordinarily musical - these and even more words describe the young virtuoso's playing style, if music could be so easily grasped
Music is the language of the soul, which connects people all over the world without words and touches them at the deepest levels" Anastasia Huppmann
About Anastasia
Born in Russia, Anastasia Huppmann discovered her love for music very early. At the age of five, she started playing the piano. Soon after, the music school board recognised her musical talent and Anastasia began receiving individual lessons for gifted children in piano, composition and music theory. At the age of seven she appeared playing her own music-compositions live on TV and won her first piano competition. She completed her piano studies at the State Conservatory in Rostov-on-Don (Russia) and at the Vienna Conservatory (Austria), both of which she completed with distinction. Anastasia continued her education at the Academy of Music in Hannover (Germany). She participated in the solo classes of Prof. Karl- Heinz Kaemmerling until his sudden death.
Anastasia won more than 20 piano competitions: among others the "XXI Century competition" in Kiev (Ukraine), the "Professor Dichler competition" in Vienna (Austria), the "Bluethner special prize" in Vienna (Austria) , the "Osaka international Piano Competition" in Osaka (Japan), the International Concorso Pianistico "Vietri sul Mare – Costa Amalfitana" and the Premio di esecuzione Pianistica International "Antonio Napolitano" Citta di Salerno (Italy), the International Piano Competition "Grand Prix International, Jeunes Talents" in Lion (France).
Today, the piano artist deals with classical solo concerts and orchestral music. Her music style has stood the test of time and brings back music from the good old days. She performs heartwarming tunes to infatuate listeners' hearts over and over again. This explains why her concerts attract a massive following of fans. She has had solo performances in the USA, China, Japan, Austria, Germany, France, Ukraine, Russia, Poland, Spain, Italy and others.
WHAT THE WORLD SAYS (PRESS)
The well thought-out and perfectly implemented sophistication of every single touch, with which Anastasia draws the colours of the music, is unparalleled among the famous pianists of our century. It is one thing to hear this, but it is another to experience it.
Indeed, it can be said that Anastasia is one of the most impressive pianists of our time. Her way of performing with passion and inner sacrifice can be compared with the work of great composers. Russian press, translated
With great attention to detail, Anastasia demonstrates entirely new possibilities in terms of tempo and sound, which prove that a talented musician who not only has heart but also taste and a sense of style can create something breathtaking. German press, translated
With Anastasia's final touch, you could literally feel how the audience held their breath and could not escape the spell of this emotional mood. An extremely emotional experience. Italian press, translated
If you had to sum up her performance in one sentence, concise, subtle, moving, challenging and sensual are all attributes that come to mind when Anastasia plays. Paul Badura-Skoda, Austrian pianist, translated
Everyday life is completely forgotten as soon as the first touches sound. Anastasia's playing pulls one increasingly deeper into the spell of the works she performs. You literally sink into the depths of the performed pieces, immerse yourself in other worlds and only realize after the final chord that you could unconsciously escape everyday life. US press
Note by note, motif by motif, and phrase by phrase. Anastasia Huppmann literally paints an absolute masterpiece every time with her performance on a fictional easel. It combines precision with passion, speed with faithfulness, and elemental force with intoxicating sensuality. French press, translated
YouTube-Kanal - Anastasia Huppmann
---