EUGENIA DUSHINA - Soprano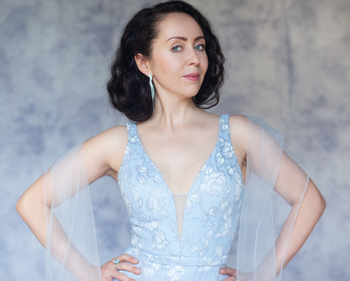 Eugenia Dushina was born in Russia. She graduated from the Tchaikovsky Conservatory in Moscow and completed her postgraduate studies at the University of Music and Performing Arts in Vienna.(class of Professor Peter Edelmann) She has won several awards in music competitions, ia. Diploma in Grand Prix Maria Callas, Feruccio Tagliavini Competition and Glinka Competition.
She was a soloist of the N.Saz Music Theater in Moscow (Michaela in Bizet's Carmen, cat in L'enfant et les selileges by Ravel, voice of the Golden Cock in "Golden Cockerel" by Rimskiy-Korsakov). With Rimskiy-Korsakov Opera she made her debut in the theater Champs Élysée in Paris. Guest engagements follows in the opera houses in Saratov (Tatyana in Eugene Onegin of Tchaikovsky, Mimi in La Boheme of Puccini), Ekaterinburg (Elvira in Don Giovanni of Mozart), Izhevsk (Nedda in The Bajazzo of Leoncavallo, Iolanthe in Iolanthe of Tchaikovsky, Rosalinde in The Bouquet of Strauss), St. Petersburg Hermitage Opera (Fiordiligi in Cosi fan tutte by Mozart), Beijing China (Tatyana in Eugene Oneghin of Tchaikovsky). She sang numerous concerts on the most important stages in Europe and Russia, drawing for her further career she went to Austria in 2016. She appeared as Rosalinde in "Der Fledermaus" von Strauss, Alice in "Falstaff" by Verdi and Elvira in "Don Giovanni" by Mozart at the Schlosstheater Schönbrunn in Vienna in July 2016. She gave her debut at the Opera Festival Klosterneuburg as Nedda in Der Bajazzo von Leoncavallo.
In 2017 she has sung the title role of Fevronia in the Invisible City of Kitezh by Rimskiy-Korsakov in Opera Bergen in Norway, Tatyana in Eugene Onegin of Tchaikovsky in Schlosstheater Schönbrunn, and then Nedda was in "The Bajazzo" of Leoncavallo (Lithuania, Palanga Festival, July 2017, production Dalia Ibelhauptaite) In 2018 she sings Tatyana in "Eugene Oneghin" by Tchaikovsky (Russia, Krasnoyarsk State Opera, February 2018), Donna Elvira in "Don Giovanni" by Mozart (Israel, Tel-Aviv, May 2018 with Chamber Orchestra of Israel with Maestro Zuckermann). Debut in the role of Violetta in "Traviata" by Verdi. (Klosteneuburg Festival July-August 2018 Austria, Vienna) Debuts in the role of Leila in "Les pecheurs de perles" by Bizet (Bergen, Norwegian August 2018) In autumn 2018 she debuted as Hanna Glavary in "Merry Widow" in Korea / Daegu Open Festival together with Seefestspiele Mörbisch (October 2018) November 2018 she sings again production of "The Bajazzo" (staging of Dalia Ibelhauptaite) in Lithuania. Then in 2019 follows a debut with Liu "Turandot" by Puccini in co-production of Vilnius National Theater and Royal Opera Madrid, staged by one of the most famous directors in the world Robert Wilson. (Vilnius, March) In April 2019 she sings again Violetta in "La Traviata" and as well "Carmina Burana" in August by Orff in Norway (Opera Bergen) In July 2019 she debuted as Giulietta in "Hoffmann's Tales" by J.Offenbach in Klosterneuburg Opera (Austria, Vienna) with TV broadcast on the ORF3.