BJARNI THOR KRISTINSSON - Bass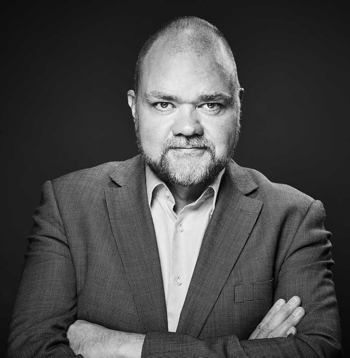 Bjarni Thor Kristinsson was born in Iceland in 1967. He studied voice at the Söngskolinn in Reykjavik and with Helene Karusso and Curt Malm in Vienna.
Between 1997 and 2000 the bass was a soloist at the Volksoper Vienna, where he interpreted numerous important roles of his repertoire including Bottom in Britten's »Midsummer night ́s dream«, Pimen in »Boris Godunow« and Pogner in »Die Meistersinger von Nürnberg«.
At the Staatsoper Berlin he gave his debut as Van Bett in »Zar und Zimmermann« and interpreted Osmin in the of production of Mozart's »Die Entführung aus dem Serail«, Baron Ochs in »Der Rosenkavalier« as well as Bartolo in »Le nozze di Figaro«.
Further Engagements around the World include Productions at Hamburgischen Staatsoper, Dresdner Semperoper, Bayerischen Staatsoper München, Deutschen Oper am Rhein, Oper Frankfurt, Badischen Staatstheater Karlsruhe, Lyric Opera of Chicago, Opéra Bastille Paris, Gran Teatre del Liceu Barcelona, in Lissabon, Rom, Verona, Palermo, Firenze, Venedig, Bari, Napoli, New National Theater Tokyo, Peking, Opéra de Monte Carlo, the Icelandic Opera and Theater an der Wien.
The two major Roles of the bass are Baron Ochs in Strauss's »Der Rosenkavalier« and Osmin in Mozart's «Die Entführung aus dem Serail« as well as almost every Wagner-Bass-Role (Gurnemanz, Daland, Pogner, König Heinrich, Köning Marke, Wotan, Fafner, Hunding and Hagen).
Future Engagements include Baron Ochs (Rosenkavalier) at Deutsche Oper am Rhein - Düsseldorf, Wotan/Wanderer in a new Wagner-Ring-Production in Kassel, Il Commentatore (Don Giovanni) at NCPA Peking and Tremouille (Jeanne d'Arc) at Oper Köln.